Court disputes
With over 10 years of experience, Sawicki & Partners Law Office in Warsaw provides legal assistance and advice in litigation. It is worth being aware that litigation is a broad concept, which applies to cases heard on civil, criminal and administrative grounds. We remain at your disposal, now we also provide online consultation. We invite you to take advantage of our comprehensive services.
Litigation – trust the expertise of our lawyers 
Litigation most frequently involves property cases (e.g. disputes over contractual penalties, payment of debts, or payment of damages). Litigation also relates to construction and real estate law matters. Non-payment of remuneration for construction work performed or disputes over improper performance of construction work are frequent reasons for litigation. Court disputes are also rooted in commercial contracts, as well as in conflicts between shareholders of companies
Our team of lawyers uses its experience and knowledge, as well as the ability to analyse a situation, to develop an accurate and effective strategy of action in litigation. At every stage of our work we are in constant contact with the Client, who – thanks to the complexity of our service – is kept informed about the status of the case and does not have to be concerned about the procedural intricacies of the court process.
In our work we use all possible strategies and tools, which, after a thorough analysis, we consider to be the most appropriate in a given situation. We treat each case individually and take into account various alternative means of resolving legal disputes that we know from practice. We are characterized by reliability, thoroughness and effectiveness of action. Regardless of the source of the dispute – financial, reputational or strategic – we always strive for a beneficial solution for the Client and this is our priority in every case.
Experienced team of lawyers in Warsaw
We know from experience that a well-considered and meticulously planned and executed strategy of action is the basis for success and achieving a favourable solution. Within the scope of our activity – in order to spare our Clients unnecessary stress and anxiety – we first strive to reach an agreement between the parties, so as not to unnecessarily enter into a long-term court dispute. If an agreement – for various reasons – turns out not to be possible, we represent the Client at all stages of court proceedings.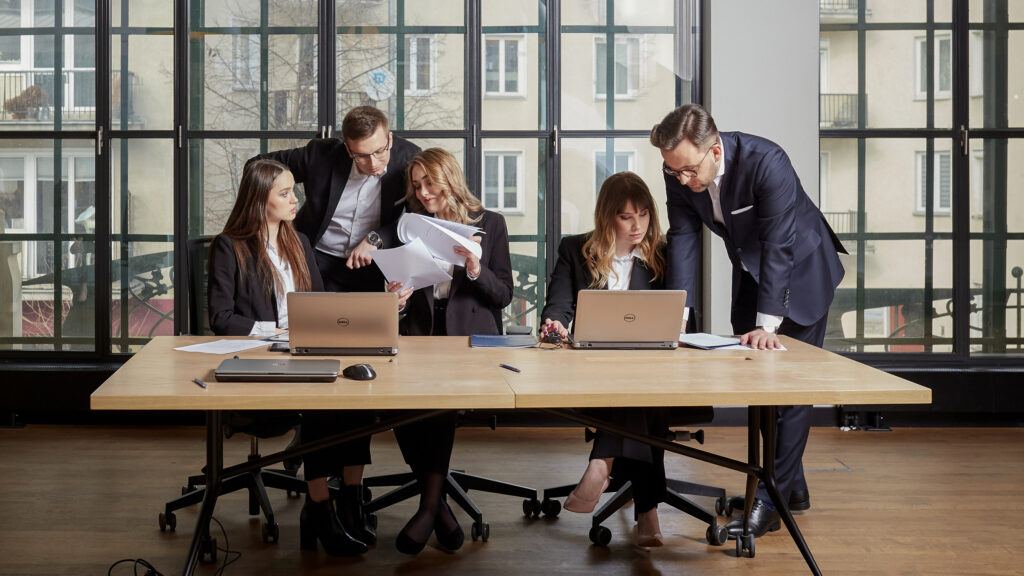 We start our activities as from the first meeting with the Client – we analyse the claims to which the Client is entitled, including the periods of possible limitation and the assessment of the real chance of success in pursuing them in court. If necessary, we also prepare any necessary letters and documents, such as pre-trial requests for payment or applications for a settlement attempt.
Comprehensive support for clients at every stage of negotiations – Sawicki & Partners Law Office in Warsaw
We represent clients at all stages of settlement negotiations. We also provide advice and assess the risks arising from a given legal situation, with a view to protecting the client and his business from similar situations in the future. We analyze each case and draw conclusions, which we later present to the Client. In our work, we ensure that the legal situation of the Client becomes clear and transparent to the possible extent, and for our part, we guarantee assistance in all aspects of litigation.
In order to provide the best possible quality of service, we are constantly improving our qualifications. Our team consists of the best experts, who are constantly learning in the field of their specialization. A client using our assistance can always be confident that we will make every effort and use every possible solution to ensure a beneficial outcome of the legal dispute for the client. Please feel free to contact the team of Sawicki & Partners Law Office in Warsaw.
---
Our team provides comprehensive legal services in negotiations, mediation and litigation. We conduct proceedings before common courts, state and local government administrative bodies and administrative courts. We provide our clients with professional advice at every stage of the proceedings, using the tools and strategies most appropriate to a given situation.
Our knowledge and experience enable us to prepare an action strategy taking into account the interests, needs and objectives of our Clients.
We assist in negotiations, verify claims and possible forms of security, prepare pre-trial payment demands, agreements and settlements, conduct court proceedings and take actions to effectively enforce claims. We invite you to contact Sawicki i Wspólnicy Law Office in Warsaw
Analysis of claims
We prepare analyses of clients' claims and evaluate the risk of litigation. We advise on the most effective way to vindicate one's rights. In our opinion, a comprehensive analysis of the legal situation and the choice of an optimum solution as early as at the pre-litigation stage allows for a significant increase in the protection of our Clients' interests and reduction of potential risks related to a dispute.
Amicable resolution of disputes
We conduct negotiations and mediations for our Clients at all stages of a dispute. We make every effort to satisfy our Clients' needs by reaching an agreement at every stage. Our lawyers not only represent Clients in negotiations and mediations, but also draft and evaluate contracts and agreements. Out of concern for the welfare of our clients, we assess the merits of initiating or continuing legal proceedings.
Litigation
We offer professional assistance in representing Clients in court cases. We support our Clients at all stages of a dispute.
We draft pleadings (e.g. lawsuits, objections, motions, appeals, complaints) and provide representation to our clients in civil and commercial litigation as well as in non-procedural proceedings (family cases, inheritance, land and mortgage register proceedings and proceedings in the National Court Register).
Within the scope of litigation the team of Sawicki and Partners provides services in the following areas, among others:
labour law (link) – our team offers assistance in litigation in the field of labour law. We conduct proceedings on behalf of employers, both in the case of suits filed by employers in connection with improper performance of their duties and in the case of suits filed by employees against their employers, e.g. in connection with disciplinary dismissal. We also represent in cases of mobbing, unequal treatment and discrimination as well as payment of outstanding remuneration.

commercial contract disputes – when entering into a dispute of a commercial nature, we first of all analyse the specifics of the industry and our clients' business assumptions. Such disputes include, among others, disputes related to non-performance or ill-performance of contracts concluded in business transactions, disputes concerning the performance of contracts, disputes over the execution of security for contractual obligations, payment disputes, including disputes over the settlement of contractual obligations, contractual penalties, the return of undue benefits and over deductions.

commercial and corporate disputes – we support our clients in proceedings arising from, among others, conflicts between partners of a company, its bodies, and the company itself. We offer legal assistance in resolving internal disputes within the company as well as disputes to which the former partner is a party. We assist in matters concerning the exclusion of a shareholder from the company, the process of buying out a minority shareholder, the assertion of claims against members of the management board of a commercial company, or disputes arising from the violation of non-competition clauses.

bankruptcy and restructuring proceedings (link) – we advise on restructuring and bankruptcy proceedings for insolvent entrepreneurs or those at risk of insolvency as well as creditors pursuing their rights. We analyze the legal situation of Clients in terms of the existence of prerequisites for insolvency and related threats, economic aspects of proceedings and liability of entrepreneurial bodies. We provide advice and legal protection to members of corporate bodies who are insolvent or at risk of insolvency.

compensation disputes – we offer representation in proceedings to obtain compensation and redress for damage to all legally protected goods. Our team provides legal representation in pursuing claims arising from traffic accidents, damages caused by transport or dangerous products and medical malpractice.

real estate disputes – we represent our Clients in court proceedings regarding real estate, in the scope of disputes connected with execution, subcontracting and the entire investment process. We provide advisory services regarding disputes arising out of real estate sale agreements, lease agreements, liquidation of co-ownership of real estate and compensation for non-contractual use of real estate.
Enforcement and precautionary proceedings
We offer our Clients legal assistance at every stage of debt recovery. We assist natural persons and companies in the effective recovery of their claims. Our lawyers adapt their services to the individual needs of our clients, acting both for creditors and debtors.
We ensure the proper course of enforcement proceedings, we advise bailiffs on possible actions and monitor their activities from the perspective of their legitimacy, effectiveness and profitability.
Our tasks also include the recovery of debts in proceedings based on the so-called actio pauliana, which is a type of action for declaring a legal act performed to the detriment of a creditor to be ineffective. We also assist in anti-enforcement actions and complaints against the actions of bailiffs. We encourage you to use the professional and comprehensive legal services provided by the Sawicki and Partners Law Office in Warsaw.
Administrative proceedings
We offer comprehensive services in the field of widely understood administrative law, in particular concerning foreigners, real estate, construction and spatial development law, and personal data protection. We provide legal advice in administrative proceedings, prepare legal opinions, represent our clients before government and self-government administration bodies and administrative courts, including the Supreme Administrative Court.
The above-mentioned scope of services is only an example of legal services provided by the legal team of Sawicki and Partners Law Office in Warsaw, in the area of litigation. Our offer also includes other services, which are impossible to list in detail, due to the fact that litigation covers a very wide range of cases. We are at our clients' full disposal. We encourage you to contact us on any matter requiring legal advice. Now it is also possible online.