New technologies
Kancelaria Adwokacka Sawicki i Wspólnicy offers a range of legal services in the implementation and application of new technologies.
In order to ensure the highest quality of our services, we offer comprehensive legal support tailored to the latest solutions on the new technology market. Our law office in Warsaw is distinguished by an individual approach to Client needs and an experienced team of lawyers, who continually develop their knowledge so that our clients can count on professional and fully reliable support.
The new technologies and IT sector is one of the fastest growing business categories, where creativity and knowledge of changing trends counts. We make every effort to meet our clients' expectations.
Our range of services includes, but is not limited to:
legal adaptation of companies

to the formal conditions of doing business in a given segment of new technologies,

drawing up contracts

and other legal documents, which concern particular sectors related to new technologies, including giving opinions on draft documents,

legal assistance in

the implementation of activities

covering new business segments in the area of new technologies and the IT industry,

comprehensive advice

on legal protection of our clients' interests in the area of new technologies,

advice related to the

implementation of new projects in the IT industry

and new technologies (e.g. mobile applications),

support during

legal negotiations

,

representation of Clients during court and administrative proceedings in new technology cases,

advice in the area of e-commerce services

, i.e., legal assistance in the protection of consumer rights and implementation of website regulations.
The welfare of our Clients is our priority, therefore we offer legal assistance at every stage of proceedings. Our many years of experience and qualified staff of lawyers ensure that we offer the most advantageous solution both for newly established companies and for other entities with an established position on the market. We offer counselling fluent in foreign languages, thus ensuring comfort and freedom of action for our clients. 
Our experience and meticulousness in pursuing our goals have already earned us the trust of many entrepreneurs. We believe that a professional approach and understanding of our clients' needs is the way to common success. We offer full commitment and comprehensive support during our actions.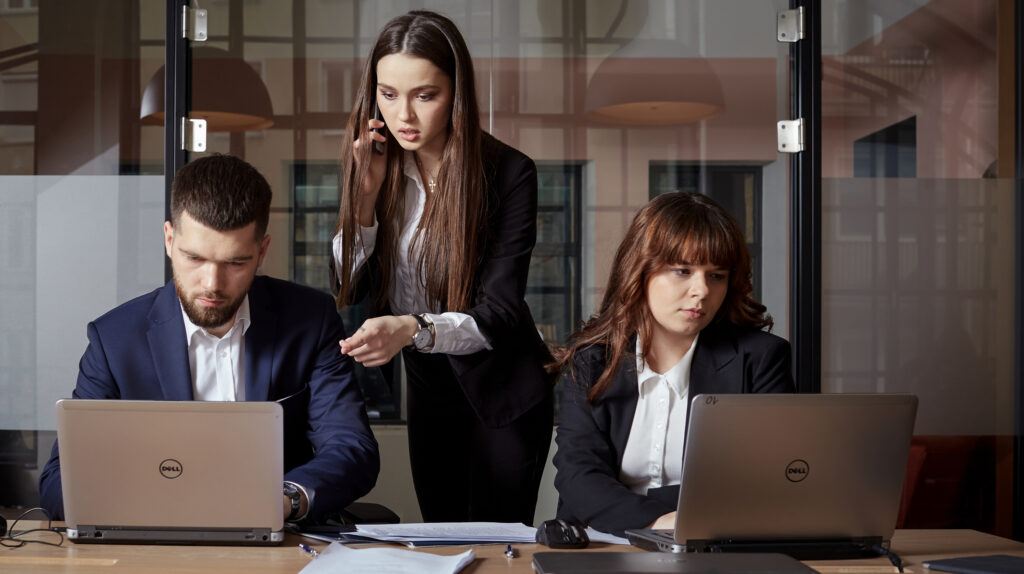 The team of our lawyers offers comprehensive legal services in the field of new technology law and intellectual property. Supporting the innovative industry means constant challenges, which often go beyond the standard legal services. At our law firm, we believe that a thorough understanding of a client's business allows us to offer services that fully meet their needs. We strive to ensure that the support we offer provides comfort and security for our clients and enables them to fully achieve their business goals. Our lawyers keep abreast of the development of innovations in the new tech segment. We offer not only our knowledge and experience, but also passion for new technologies and innovative solutions. We encourage you to take advantage of our professional services.
The firm's team of experienced lawyers and experts provide legal services including:
Public procurement in the IT sector
We provide services for both contractors and ordering parties. We help clients prepare and implement projects related to the implementation of IT systems, both at the stage of order drafting and during the procedure. We support contractors in the procedure of obtaining orders. We prepare the necessary documents and identify the areas of greatest risk in order to properly secure the interests of our clients. Our services also include support in appeal proceedings, including representation before the National Appeal Chamber, as well as ongoing legal advice during project implementation. 
We provide comprehensive services related to public procurement in the IT sector – we encourage you to take advantage of the comprehensive services of our law firm in Warsaw.
IT contracts
Our lawyers support entrepreneurs developing and implementing software, as well as companies introducing IT solutions in their structures. 
We draft and verify contracts for IT projects on the part of both contractors and ordering parties. We analyse and advise on legal issues related to IT services, ensuring that the actions taken are in compliance with legal regulations and guidelines of relevant supervisory bodies. 
For our clients, we draft and negotiate implementation, maintenance and development agreements, as well as agreements regarding the acquisition of rights to given solutions. Thanks to our experience, we are able to identify risks and anticipate difficulties that may arise in the course of project implementation. Thus, we are able to adequately secure the interests of our clients already at the stage of drafting and negotiating the terms of an agreement. We invite you to contact the lawyers of the Kancelaria Adwokacka Sawicki i Wspólnicy.
GDPR
We help you fulfil your obligations related to the processing of personal data. We strive to ensure that the solutions we offer are the least burdensome for our clients, ensuring full compliance with regulations. We prepare comprehensive documentation in the field of personal data. We conduct compliance audits of the documentation, safeguards and other solutions used in the company with the provisions of the GDPR and national legislation. We support the conduct of data protection impact assessments required by law. We also advise on how to prepare for an audit by the President of the Personal Data Protection Office (PUODO). 
In the event of a breach of the GDPR regulations, we assess individual cases in terms of the need for notification, develop recommendations on how to proceed, assist in preparing a notification to the PUODO and represent clients in administrative, civil and criminal proceedings related to the breach of personal data protection. We invite you to take advantage of the comprehensive services of our law firm in Warsaw.
Intellectual Property Law
Intellectual property issues arise in connection with many aspects of our clients' businesses. We provide legal support with respect to copyright and related rights, industrial property rights, database rights, and know-how. We prepare, provide opinions on and negotiate contracts, including contracts with employees, collaborators and contractors. We support our Clients in comprehensive management of intellectual property in an enterprise. 
We prepare legal opinions and conduct audits of the status of rights and their protection. We advise on issues related to the registration of trademarks, protection of company rights, and information security. We cooperate with experts in the field of inventions, industrial designs and utility models. 
We also represent Clients in court disputes concerning the infringement of intellectual property rights, as well as in proceedings before offices responsible for the registration and protection of industrial property. We encourage you to contact us at the Kancelaria Adwokacka Sawicki i Wspólnicy.
Research and development (R&D)
We provide comprehensive legal services for entities carrying out research and development work. We take care of our clients' interests, protecting their innovative undertakings. We act both for the originators and for entities involved solely in capital or strategically. We support our clients at every stage of the project, assisting in the organisation and structuring of the venture, as well as providing services during its implementation. 
We prepare and negotiate contracts with contractors, consortium members and financing entities. We also assist in the organisation and implementation of R&D projects co-financed from public funds. We participate in the preparation of documentation for obtaining funding, as well as provide comprehensive advice on the proper implementation of funding agreements and fulfillment of obligations related to the application of competition rules. We support our clients at every stage of their activities. Our lawyers will provide any information related to the protection of the rights of entities conducting research and development activities.
Innovative solutions and products
The new tech sector includes solutions that often escape the standard legal framework. Legal protection of innovations and innovative products often requires non-standard legal solutions, particularly when the legislator has not yet enacted provisions regulating a specific product or service.
For our clients, we provide legal support aimed at maximum protection and safeguarding of their interests.
We evaluate innovative solutions and inventions from the perspective of legal risks. We advise on how to protect oneself against charges of infringement of regulations, including those brought by regulatory authorities such as the Polish Financial Supervision Authority (KNF) or the Office of Competition and Consumer Protection (UOKiK). In our opinion, good preparation of an enterprise allows for a significant reduction of legal risk already at the stage of its organisation, i.e., before its introduction on the market.
Our activities go beyond standard legal solutions. We support clients introducing innovative solutions and products to the market. We invite you to the Kancelaria Adwokacka Sawicki i Wspólnicy.
Training
We organise internal training within the company, providing an opportunity to broaden specialist knowledge and exchange experience between our lawyers and entrepreneurs and their employees dealing with specific projects in the field of new technologies. We believe that building legal awareness within an organisation allows us to significantly reduce legal risks for the future. Moreover, providing training to management and staff – especially in areas such as personal data protection, public procurement or competition – is an important element during the inspection of relevant authorities related to the violation of these regulations. 
The above are only examples of basic legal services provided by a team of lawyers and experts of Kancelaria Adwokacka Sawicki i Wspólnicy in the area of new technology law. Our offer also includes other services, which cannot be listed here, as the law of new technologies covers an extremely wide range of regulations. We invite you to take advantage of our services. We also encourage you to make an appointment at our office or to take advantage of online consultation.