Vindication
Sawicki & Partners Law Office offers comprehensive services in recovering outstanding debts for businesses and individuals. We advise our clients at all stages of debt recovery – both in the initial amicable negotiations, as well as in subsequent court and enforcement proceedings. We are characterized by modernity, flexibility, creativity and consistency in connection with the activities carried out by our team.
When conducting business activity, it is impossible to protect oneself from unreliable contractors who will delay payment of dues, therefore it is worthwhile to get acquainted with the notion of debt collection already at the stage of planning the first transactions. When looking for information on the subject, one may often come across a wrong association of the term debt collection (vindication) with bailiff execution – these are two completely different issues, although their aim is the same – to recover outstanding payments from a debtor.
Bailiff enforcement is the so-called last resort in debt recovery proceedings. Enforcement takes place when, in spite of a previous court judgment, a debtor fails to settle his financial obligations. Enforcement is conducted by a bailiff. The bailiff acts on the basis of the petition submitted by the creditor to initiate bailiff enforcement, as well as the enforcement title issued by the court. Thus, any execution by a bailiff must be preceded by a court case.
What is debt collection?
Debt collection is the process of recovering property (usually money) through legal means specified by law. Formal actions help natural persons or entrepreneurs who have the basis for claiming their property (creditors) to recover it from the debtor. Acting in the way specified in legal acts, we can talk about legal debt collection, which aims to motivate a person or institution that is indebted to us to return the money. This process begins already when the time for repayment has passed (for example, the contractual deadline for payment of an invoice) and the debtor has not made the payment.
Due to the ways and means of debt recovery, there are two types of debt collection – soft and hard. Soft debt collection is a mild form of debt recovery. It is nothing else than reminding, urging and calling by letters, e-mails, text messages or telephone to pay the amount due. Another method used is submitting information about a debtor's arrears to the register of debtors kept by the Business Information Bureaus, i.e. the BIG InfoMonitor, the ERIF Debtor Register, the National Bureau of Economic Information S.A. (KBIG), the National Chamber of Commerce and Industry, (KBIG), the National Debt Register BIG S.A. (KRD).
Hard debt collection, on the other hand, is what is known as a harsh form of debt enforcement and recovery. In other words, it forces a debtor to repay his financial liabilities as soon as possible. It is used when all previous, mild forms and attempts to recover outstanding funds have failed.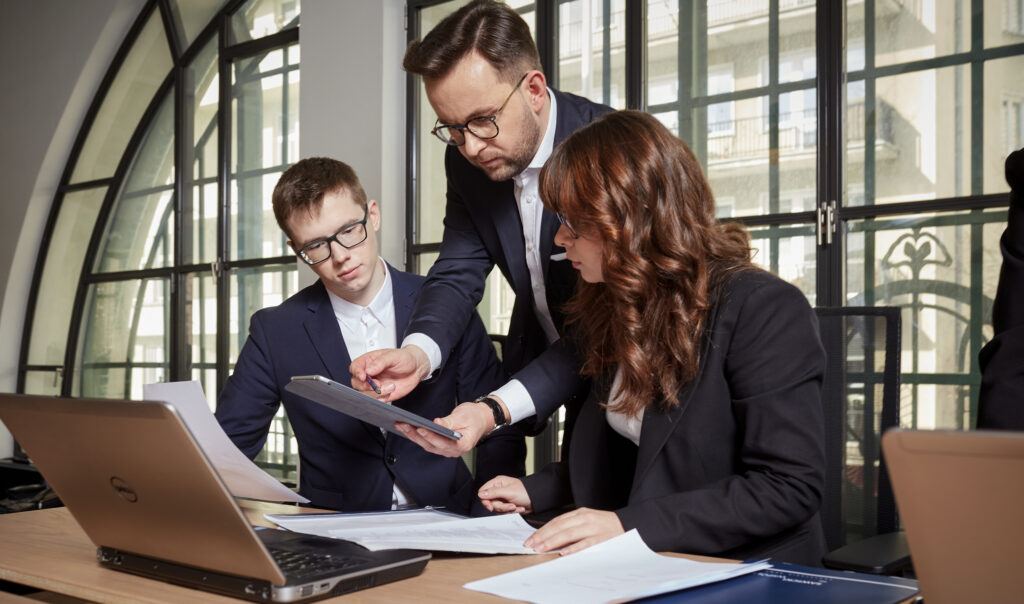 Hard debt collection includes a range of legal sanctions that can be imposed on the debtor. These are coercive measures that can make the debtor liable to additional financial consequences, especially in the case of court proceedings. It is worth knowing that debt collection allows for conducting business intelligence, initiating court or enforcement proceedings. In addition, publication of information about debts on debt exchange websites or reporting the debtor to industry guides, as well as entering the debtor in registration documents in the banking sector and the register of debtors.
Debt collection is also divided according to the country of origin of the person who is in arrears with repayment (or the place of business of the indebted company) – into domestic and foreign debt collection.
Services in the field of debt recovery – use the services of the Law Office from Warsaw
Sawicki & Partners Law Office provides comprehensive services related to the legal and legitimate recovery of your receivables from dishonest contractors.
We provide services such as: checking the assets of an indebted person or institution and checking additional information about the counterparty, conducting professional negotiations, supporting the processes of making a debt public, as well as supporting its introduction to the debt exchange and entry into the register of debts. We offer our Clients monitoring of their receivables, amicable and judicial debt collection, as well as any other actions aimed at supporting debt enforcement proceedings.
Our law office's activities consist of: 
debt collection and participation in negotiations concerning both the repayment itself and possible debt restructuring, 

representation in all court proceedings – civil and commercial (including before the Supreme Court), as well as in security and enforcement proceedings.
Our qualified team offers assistance in recovering amounts due under oral and written contracts, loans, leases and credit agreements, late payment of invoices, non-performance of contracts, advances and contractual penalties. All the actions carried out by our Law Office are in accordance with the law and are consulted with the Client on an ongoing basis so that they are aware of the scope of our activities and the progress and results achieved.
We represent the client at every stage of the debt collection process.
Professionalism and experience of our lawyers
In the field of debt recovery, we are characterized by experience and reliability, as well as effectiveness of action. Our priority is to achieve the goal set by the Client as quickly and easily as possible. We assist in interpretation and correct application of regulations. For years we have been doing our best to protect our Clients from unclear regulations, unreliable and dishonest contractors, as well as from the complexity of certain court proceedings.
We are committed to ensuring that the client, who manages a company, can conduct his business without any obstacles, while we deal with his problems and solve them as soon as possible. We encourage you to use the professional and comprehensive services of Sawicki & Partners Law Office. Please feel free to use online consultations conducted by our lawyers.
Payment monitoring
Monitoring of all payments related to business activities plays a special role – it is a very important process, as receipt of payments on time allows an entrepreneur to properly manage its capital, thus enabling further business activities. Sawicki & Partners Law Office in Warsaw offers a wide range of services related to the payment monitoring – our years of experience and a team consisting of lawyers specializing in a given area of activity guarantee comprehensive services, thus ensuring their highest quality and client satisfaction.
The activities of our law office in Warsaw include primarily:
presenting the most advantageous solutions for our Clients, which at the same time guarantee a prompt resolution of disputes during the pursuit of their claims,

representing clients before judicial authorities and other state entities in connection with asserting their rights in administrative and court proceedings,

conducting activities on several levels, which ensure the highest effectiveness in asserting Clients' rights.
By monitoring the timeliness of payments received and reacting early enough, the risk of arrears on the part of the client's debtors is reduced. As a result, the entrepreneur gains security connected with timely repayment of a specified amount of funds. 
Thanks to the activity of our law office hundreds of clients have already decided to trust us and successfully recover their receivables. We believe that our experience and qualified team will meet all expectations of our Clients, guaranteeing the highest quality of service and satisfaction.
Effective assistance for clients of the law office in Warsaw – bet on the recommended law office from Warsaw
An additional advantage that results from the cooperation with Sawicki and Partners Law Office in Warsaw is high effectiveness and quality of conducted activities. Depending on the requirements of our clients, we use all available forms of contact with the contractor, including phone contact, e-mail, drafting and sending appropriate letters and summons. These types of activities have a preventive, control and precautionary character. Using the proposed solutions entails a number of measurable benefits, which include, among others:
securing performed transactions in the future,

building positive relations with the Client's contractors,

introducing appropriate securities, which will help to avoid situations connected with arrears in the future,

maintaining established budget assumptions.
Do not hesitate to contact our office where a professional team of lawyers and specialists will offer you a service tailored to your individual needs. To meet your expectations, we also provide online consultations.